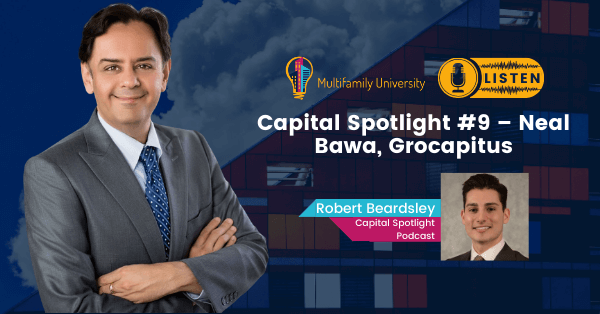 EQUINOX TOWNHOMES NEW BRAUNFELS - TX
Own a New Construction Turnkey Fourplex!
Located on the Austin - San Antonio mega corridor
Tax-advantaged passive income
Hassle-free property management
Cash flow in one of the fastest growing suburbs
Check out the new episode of the Capital Spotlight! We had Neal Bawa on who provided great value.
Grocapitus Opportunity Zones
Dramatically reduce your capital gains taxes from the sale of stocks, bonds, real estate, etc. by investing in Grocapitus Opportunity Zones (pay as little as $0)
Robert oversees acquisitions and capital markets for the firm and has acquired over $100M of multifamily real estate. He has evaluated thousands of opportunities using proprietary underwriting models and published the number one book on multifamily underwriting, The Definitive Guide to Underwriting Multifamily Acquisitions. He has written over 50 articles about underwriting, deal structures, and capital markets and hosts the Capital Spotlight podcast, which is focused on interviewing institutional investors. Robert also helps run Greenoaks Capital, his family's real estate investment and advisory firm. Robert grew up in Silicon Valley and currently lives in New York City, where he enjoys reading nonfiction, traveling, working out, meditating, playing golf and piano.