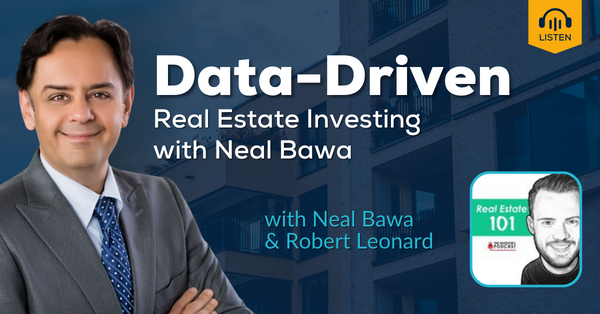 Robert Leonard chats with Neal Bawa, who returns for the third time on the show, to discuss how to use a data-driven approach to know where things are heading in real estate, how to leverage technology when finding deals, and much, much more. Neal is the Founder and CEO of Grocapitus, CEO of MultifamilyU, and Co-Founder of the largest multifamily real estate investing meetup in the US.
IN THIS EPISODE, YOU'LL LEARN:
How technology and being a practitioner of it can impact one's approach in real estate investing
What to specifically look for in real estate when analyzing a city as a whole and when looking at neighborhoods
How to know which market analysis strategies work best and how to tweak them to suit your situation
How to leverage virtual assistants as a new and small individual real estate investor
Why a three-to-five-year exit strategy to divest a property and return the capital to investors is better than holding for the long term
How to actually apply the strategy to buy for "bad times" and not for "good times" in the real world
How COVID has affected real estate in the US and how Neal sees office space and commercial real estate performing over the next 10 years
What future opportunities the Coronavirus is creating
Lessons Neal learned from the pandemic that he plans to leverage in the future
And much, much more!