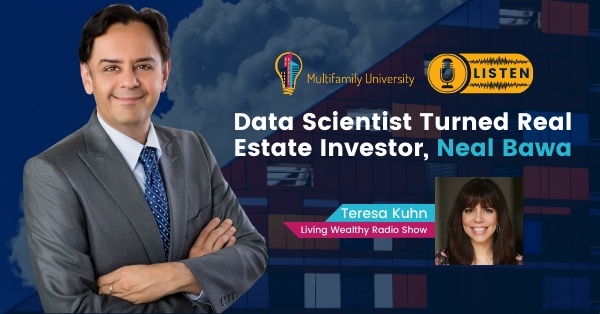 Real estate investing is highly risky, and most people just can't make it work. Management and maintenance expenses eat up all the profit, and everything costs more than you expect. But today's guest has built a real estate empire by applying his background as a data scientist. His method for selecting properties is something you've probably never heard of before. And surprisingly, it's extremely simple.
OWN TURNKEY RENTAL PROPERTY ON THE AUSTIN - SAN ANTONIO MEGA CORRIDOR!
Equinox Townhomes New Braunfels - Class A Build to Rent Triplexes and Fourplexes
Tax-advantaged passive income
Hassle-free property management
Cash flow in one of the fastest growing suburbs
Joining us is Neal Bawa, CEO and Founder of the real estate investment company, Growcapitus. He's an entrepreneur, technologist, and speaker – and he's been dubbed the mad scientist of multifamily. He's here to share with us his insights in targeting multifamily real estate as a highly profitable investment tool.
Grocapitus Opportunity Zones
Dramatically reduce your capital gains taxes from the sale of stocks, bonds, real estate, etc. by investing in Grocapitus Opportunity Zones (pay as little as $0)
What Will Happen to Multifamily if There Is a Recession
Let's say the second half of this year (2020) there is a recession – two consecutive quarters of negative growth

When this happens, the Federal Reserve will cut interest rates – maybe to 0%

It won't help anything in the short term – it will take about 9 months to wind there way through the economy

In the short term, rent growth will go down and owners of apartments will stop distributing money to their investors and start focusing on filling their properties

People are losing jobs and will actually drive demand for apartments
Every recession, more than a million people lose their homes
Apartment owners will be focused on keeping occupancy up and delinquencies down

Once they stabilize their properties they can pay their mortgage and wait until the end of the recession

After the recession ends, it will take the Federal Reserve 2 to 3 years to even think about raising interest rates

In 2009, it took 6 years before interest rates went back up
Even if the next one s mild, it should take at least 2 years to go back up
Apartment owners will be able to increase rents, re-finance at GREAT low interest rates and it creates great cash flow
Although it can work out well for apartment owners, they still much management prudently all through the recession
A Message for Californians
Californians are probably breathing a sigh of relief to think they will be OK in 2020
However, be cautious, there are other factors that could hurt investors in 2020 in California and other "rent control states"
Legislators have been trying to win people over to the idea of rent control
If you are looking to invest or already invest in California, do a Goggle search and see what is ahead for rent control on California
It is a phased approach – Legislators are fighting a war, not a battle
At least two more tiers of rent control are coming to California within the next year, year and a half
Research what is ahead before investing in California rental property
He does not see California as a good place to invest for the next 10 years
He doesn't see a "separate California Recession" happening but the regional economics is not good at this time
Flipping may have more opportunity than long-term holds but it's still more likely that prices will decline and not go up
Neal always wanted to build the "Wikipedia of Real Estate"
He wanted a place where people could do a deep-dive learning without being sold an expensive package of stuff
He does 50 deep-dive webinars there every year
Content is not just on multifamily
There's content on self-storage, legal info, taxation, AirBNB and more
The goal is to bring in experts from all over the U.S., with a "no sales pitch" approach and leave the webinars on the site
Neal has a dozen himself and he covers multifamily and insight on key US markets