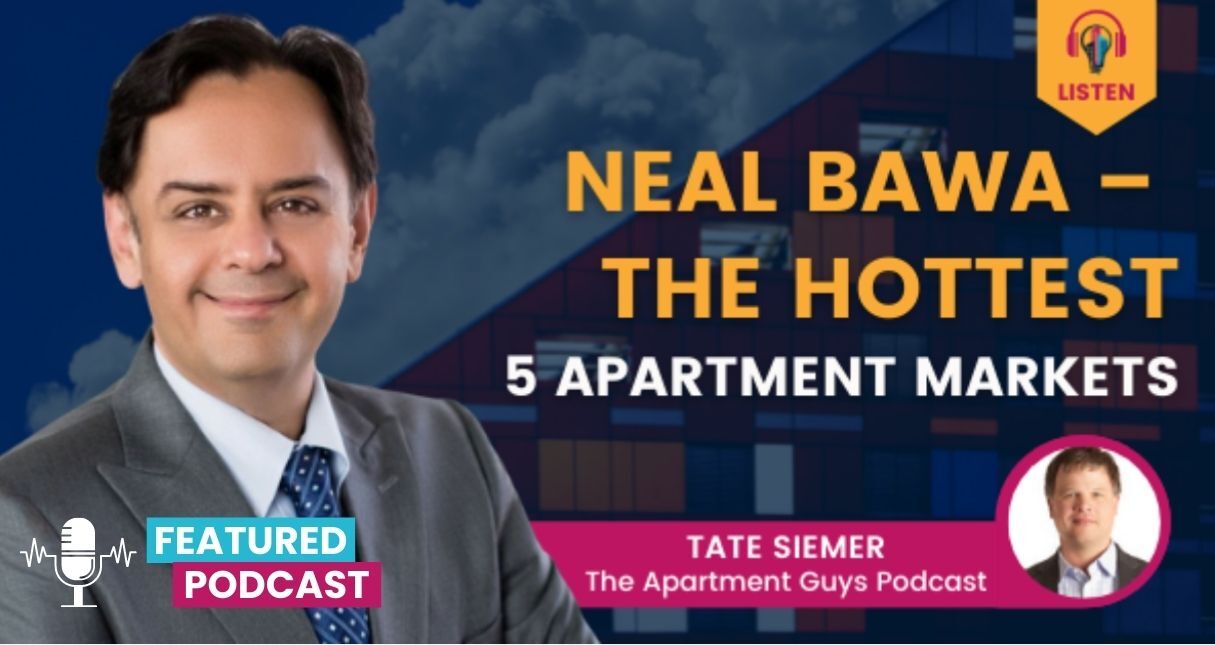 Knowledge is power, and with market conditions shifting so incredibly quickly, investors need to stay up to date.
If you didn't know already, Neal guests on several podcasts with industry-leading hosts each month. They cover current and emerging trends, and Neal always has ground-breaking info that you're going to want to hear.
But hey, life is busy, and who has time to listen to track podcasts? That's why we made it easy for you by selecting a podcast of the month that you DO NOT WANT TO MISS!
Last month, Neal was hosted by Tate Siemer on The Apartment Guys Podcast, where they discussed the hottest apartment markets in the country. This podcast is JAM-PACKED with incredible information and tips on where you should be looking to invest.
We are just coming off one of the single greatest years for investing in multi-family properties. Why? Because it was also the greatest year for single-family homes. When we look at multi-family home trends, we must pay attention to single-family homes, as they trickle down to unit rental rates.
Neal recaps how the outrageous last year's performance was (excerpt from podcast)
But when a superstar year like 2021 happens, potential investors start to worry that the following year must have a correction looming and that just simply is not the case. Because of the trickle-down effect, multi-family rents tend to follow single-family homes, but with a lag of about 6-9 months. So what does that mean for 2022? Well, you can bet that it's going to be yet another incredible year as rental rates continue to go up.
In fact, last month, Zillow sent out a public update of their 2022 forecasts saying that they estimate the average value of homes to increase not 11% but a staggering 16%. There is such a ridiculous amount of supply dislocation disruption.
If the single-family market increases anywhere near 16%, the multi-family sector is looking at another incredible 18 months because it takes a whole year for rising rents to reflect in an asset's net operating income.
The impacts of the COVID-19 pandemic are here to stay, and remote work will forever change the landscape of the US workforce. In the coming years, white-collar workers are projected to have incredible bargaining power, and you can bet that will result in massive population shifts. So for investors, it's crucial that you know what markets to target.
Cities positioned to have the highest appreciation in 2022 are:


Austin, Texas



San Antonio, Texas



Knoxville, Tennessee



Killeen, Texas



Asheville, North Carolina
Why Neal thinks the Austin is the Unicorn in the Real Estate world (except from podcast)
Noticing a trend? Neal's data typically doesn't point to mega-metropolises but halo markets. These regions have booming economies but are still growing in population and popularity.
Suppose your investment goals are more focused on cash flow. In that case, Neal highlights Columbus, Ohio, and Oklahoma City, both of which are sure to have excellent cash flow investment properties as well as expected appreciation in the coming year.
We are entering the era of build-to-rent. Neal discusses how BTR is widely more profitable than value-add developing or traditional apartment development. If you're on the hunt for an investment option in this rockstar asset class, our partner, Casata, is building an incredible eco-friendly micro-home community, and there are still a few investor spots left. Check out the investor kit now!
Why Neal thinks Build to rent is an incredible asset class (excerpt from podcast)
Watch the full interview here
Here are a few other recent podcasts that you may be interested in