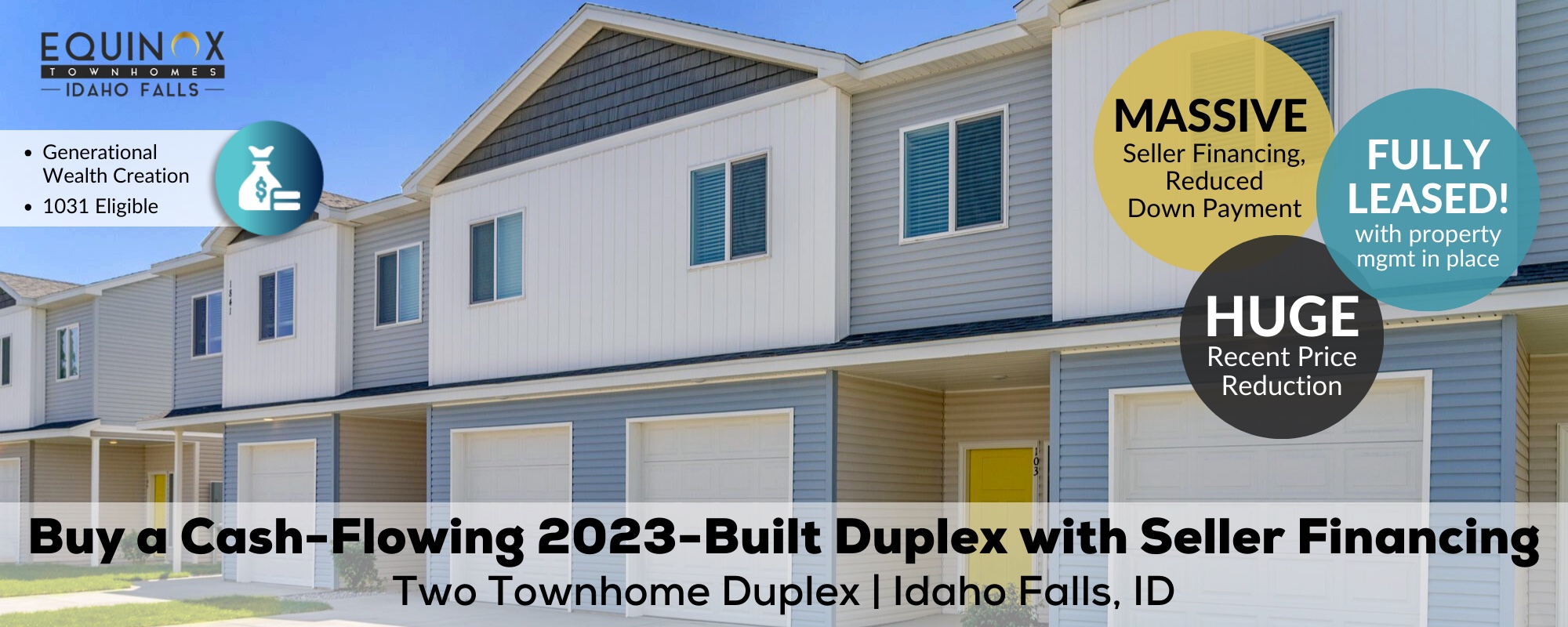 Massive Seller Financing Holiday Deal
We're offering huge seller financing until Jan 5th, to reduce the equity needed to buy a townhome duplex by almost 50%!
75% LTV Financing
7.5% interest, 7 years fixed with 2% rebate for 3 years = 5.5% net interest rate*.
*US bank quoted rate on Nov 7, 2023
Fully Leased Townhomes
Both townhome units were buit in 2023 and already have tenants in place so you will receive cash flow from day one!
3 Bed 2.5 Bath Units
Both townhome units have 9 foot ceilings, granite countertops, backyards, 1354 sq ft of space.
Projected Returns (7 Year Hold)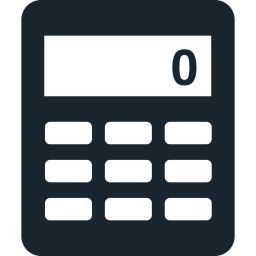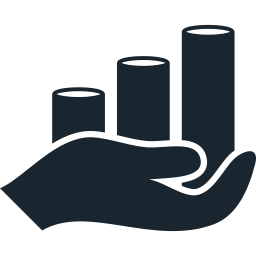 Turbocharge Your Profits With Our Seller Financing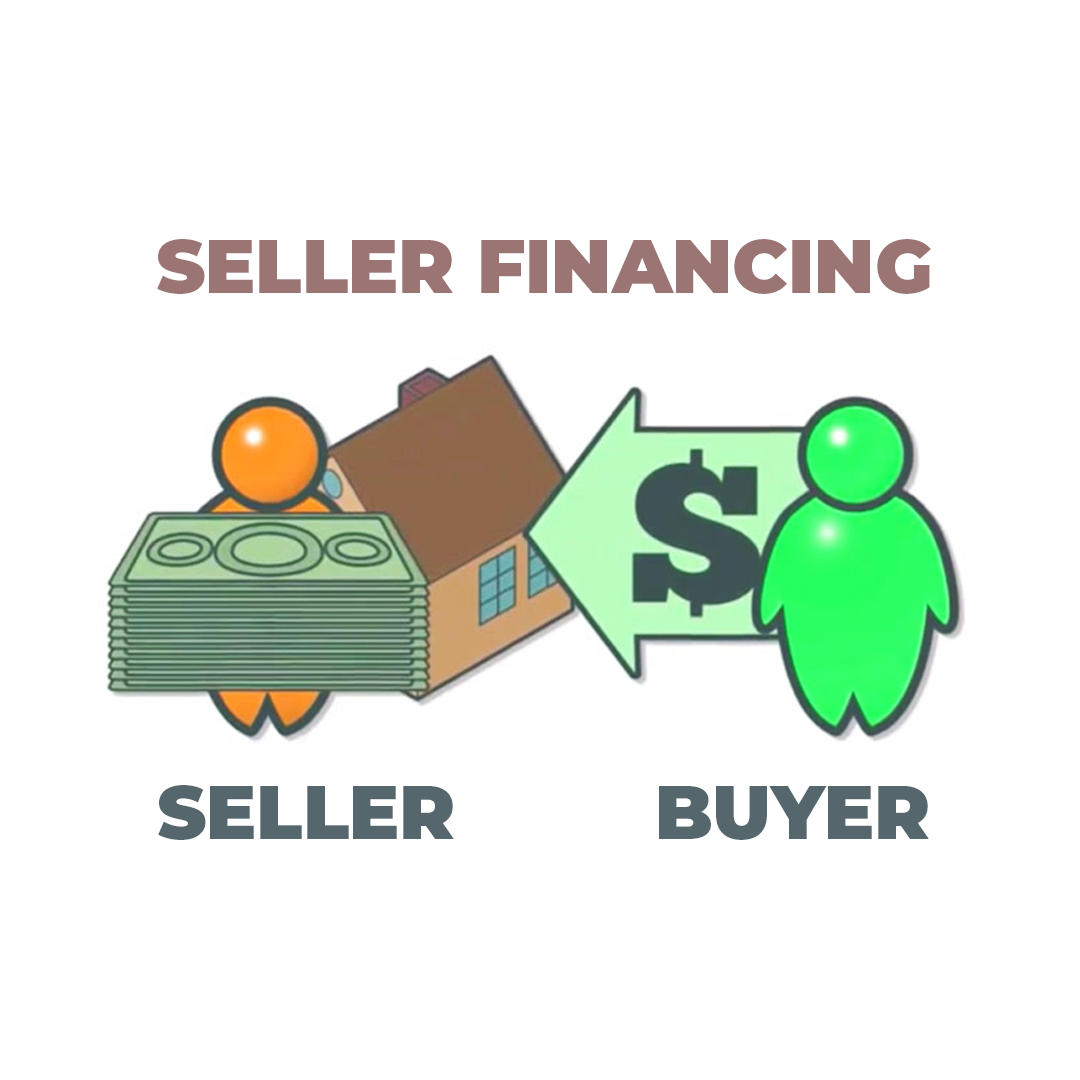 Take advantage of our seller financing to buy a cash flowing duplex with a very small amount of cash. Not only are we offering seller financing, we are offering it for a low interest rate, and we are deferring the interest payments for 3 years!
This means that you can purchase an investment duplex with a very small amount of equity and your property will cash flow immediately because you are not paying any interest on the seller financing for 3 years. This is an incredible deal and is only being offered because interest rates are so high right now.
Holiday seller financing ends January 5th!
Request The online Investor Kit
Investor Presentation (PDF)
A video walkthrough of a unit
Where should we send your
Equinox Townhomes Idaho Falls

investor kit access information?
Privacy Policy: We hate spam and promise to keep your email address safe
Grocapitus Interest Rate Protection
If your locked-in interest rate is over 7%, we will give you 2% credit at closing. Basically, your interest rate will reduce by 2% for 3 full years because of this credit.
Invest with peace of mind, without worrying about interest rates, and get the true benefit of inflation, which is faster rent benefits.
Virtual Tour at Your Fingertips
"Grocapitus is a breath of fresh air. They do things differently and way better than their competitors. Thank you Neal for being an amazing leader to your team! I couldn't be happier with the results so far. Looking forward to investing more in the future."
SARAH L., Grocapitus Investor
Top Reasons To Buy This Duplex
MASSIVE SELLER FINANCING
We're reducing the equity you need to purchase a duplex by almost 50%!
2% CREDIT AT CLOSING
If your locked-in interest rate is over 7%, we'll give you a credit to reduce your rate by 2% for 3 years.
METRO WITH EXPLOSIVE GROWTH
A super star metro with stellar population growth and a thriving economy. Named #1 best performing small city for 2021 and 2023 by Milken Institute.
FULLY LEASED WITH POSITIVE CASH FLOW
The remaining units have tenants already in place so you will have cash flow from day one on a brand-new asset.
GROCAPITUS PARTNERS HAVE INVESTED!
This is a personal project of Neal Bawa (CEO) and Anna Myers (COO), who own 25% of the development.
100% OWNERSHIP
No partners or profit splits. Buyers have 100% control and receive 100% of the profits.
GENERATIONAL WEALTH
Receive monthly cash-flow while building significant equity over time due to appreciation and declining loan balance.
TURNKEY MANAGEMENT
Property management from a leading Idaho Falls expert with 15 years of experience.
TAX SAVINGS
BONUS DEPRECIATION in year one against all passive income (and active income for real estate professionals). 1031 exchange eligible.
BUILD-TO-RENT
Investor-friendly new construction significantly reduces maintenance, increases tenant desirability, and comes with warranties and guarantees.
Where should we send your
Equinox Townhomes Idaho Falls

investor kit access information?
Privacy Policy: We hate spam and promise to keep your email address safe
"Developers such as Grocapitus are a welcome addition… it is my pleasure to express support, on behalf of the City of Idaho Falls, for the residential project Grocapitus is constructing."
Mayor's Office of Economic DevELOPMENT, City of Idaho Falls
Your Duplex is Inside a Brand New 66-Unit BTR Community
Equinox Idaho Falls is a 66 unit townhome community of fourteen fourplexes and five duplexes. Each owner owns their own duplex or fourplex, with clear title. Each townhome unit in your duplex is two stories and comfortably sized at  1,354 square feet, with 3 bedrooms and 2.5 bathrooms. The design features an open-living concept with large spaces for comfortable living.
This community has been designed to be investor-friendly while meeting the needs and desires of tenants, including:
9 foot ceilings on first floor
Luxury flooring and stainless steel appliances
Master bedroom with a walk-in closet and a private bathroom with shower
1-car attached garage with private driveway and abundant guest parking
Community amenities include a common courtyard, picnic tables, a playground, and a fenced in dog park and dog run.
Because it's brand new, your rental duplex comes with a 10 year structural and a 12 month product warranty.  Unlike older properties, you won't have the expense and hassle of replacing the roof, installing a new hot water heater, or upgrading the HVAC system anytime soon.
Where should we send your
Equinox Townhomes Idaho Falls

investor kit access information?
Privacy Policy: We hate spam and promise to keep your email address safe
"I have invested in a couple of opportunities with Grocapitus. One of them is a multifamily property, which has been performing superbly, and way better than the initial predictions. The second one is a new construction project, which is on-time, even during the COVID-19 pandemic. And the

marketing material that the team has put together to lease these new units is top-notch

. Awesome job by Neal and his team in managing the properties and consistent communication with their investors."
AVINASH P., Grocapitus Investor
Why Real Estate Investors Love Idaho
Urbanites are saying goodbye to big city life in favor of less crowded, more affordable inland cities and towns in the U.S. Nowhere is this trend more evident than in Idaho, where the housing market is booming and out-of-staters are pouring in to take advantage of the state's relatively affordable cost of living without the big-city traffic, making it one of the fastest-growing states in the country.
For businesses, Idaho has a vibrant entrepreneurial culture with low taxes, a balanced state budget, and a business-friendly regulatory environment.
It's no wonder it has garnering numerous top rankings, including:
#3 Best State - U.S. News Best States, 2023
#1 Best State for Fiscal Stability - U.S. News Best States, 2023
#2 Best State for Economic Growth - U.S. News Best States, 2023
#2 Best State for Middle Class - SmartAsset, 2022
#1 Economic Momentum - Index of State Economic Momentum, 2022
"The market is expected to remain in balance through 2024. The project should have strong appeal to the market as it is located in a desirable residential neighborhood."
Western States Multifamily, Independent Market Study
Our Flourishing Small Metro, Idaho Falls
Located in Eastern Idaho, Idaho Falls is a super star metro with explosive growth and a thriving economy. It has best-in-the-nation job growth from a diverse range of industries. During Covid, Idaho Falls saw the fastest job growth rate in the country and experts are predicting future job growth of over 40% in the next decade.
Here are some awards and accolades that highlight why we think Idaho Falls is a phenomenal metro for real estate investors:
#1 Best performing small city - Milken Institute, 2021 & 2023
#2 Largest Workforce in Idaho - REDI, 2023
#13 Fastest Growing Cities in the U.S. - Checkr, 2023
With high-paying jobs and remote working the new norm, Idaho Falls is an attractive place to live. People are moving here because of the jobs, quality of live, and the diverse economy. We see nothing but good news ahead for real estate investors that invest in this metro.
"Neal is a disruption force in his field, he has everything down to a science. He fuses the best practice of both technology and business, into his workflow. And he always seeks the truth. If you are with Neal, you are on the fastest train!"
JENNIFER F., Grocapitus Investor
Why Build in This Micro Neighborhood
The project site provides an unparalleled opportunity to develop a landmark community in one of the fastest growing areas of Idaho Falls.
Only a few minutes from downtown, it is surrounded by affluent residential communities and is in close proximity to Idaho Fall's largest employers and three universities. There is convenient access to the regional airport located only 10 minutes away, as well as Boise to the west and Salt Lake City in the southeast.
The neighborhood is stellar, with higher income than 62% of neighborhoods in the nation, due in part to the high number of white collar jobs at 54%.
All thanks goes to explosive population growth over the last five years, at 17.6% within one mile. 
While the nation went backwards with a job decline of -6.4% during the pandemic, our neighborhood witnessed job growth of +5.6%!
"The site is located in a desirable residential neighborhood with convenient access to major and secondary road arteries. The population continues to grow as the economy in the area grows and diversifies. The project should have strong appeal to the market."
Western States Multifamily, Independent Market Study, Feb 2021
Property Management
Smart real estate owners know good property management is essential for a successful real estate investment, which is why Grocapitus thoroughly researched potential property managers in the area and selected Jake Durtschi.
Founder of Jacob Grant Property Management
Idaho Falls expert with 15 years of real estate investment experience
Developed and currently owns a 28-unit townhome community near Idaho Falls
Manages 750 residential units in Rexburg, Idaho Falls and Pocatello markets
Certified Property Manager (CPM) licensed by the Institute of Real Estate Management (IREM) and a licensed realtor in Idaho
Jacob Grant is also a great fit because they already have experience developing and operating their own townhome community which is very similar to ours, with similar finishings and the same builder. Their project had an impressive 42 people on the waiting list before construction was even complete.
"I invested in Grocapitus' project because I liked their data driven approach to analysis and conservative underwriting. So far results have been delightful as the project has outperformed the projections and continues to perform well even during the coronavirus crisis. I also appreciate the fact that Grocapitus is easily available and they make it a point to communicate personally to address any questions I might have."
ANSHU S., Grocapitus Investor
Strong Cash Flow With Amazing Financing
Both townhomes fully leased with cash flow from day one!
US Bank will finance the townhomes with 75% loan-to-value (LTV), at 7.5% interest rate*, fixed for 7 years.
You will need $5K for a deposit now and then a partial down payment (we will seller finance the rest at a low, deferred interest rate)
Now is a fantastic time to purchase a leveraged, income producing asset that has performed well historically during recessions.
*US Bank quoted rate on Nov 7, 2023
"The City's desire is to have high quality, creative and affordable units developed in the core of our community that increase rental options for our residents. Grocapitus have met that desire, and gone above and beyond… Grocapitus was thoughtful, and the effort was impressive to witness!."
MAJOR'S OFFICE OF ECONOMIC DEVT, CITY OF IDAHO FALLS
Generational Wealth Creation
When you invest in Equinox Townhomes Idaho Falls, your investment acts as the foundation for a long-term wealth-growth strategy.
The equity that gets built up over a 30 year ownership period is truly spectacular. Principal goes down over time as the loan is repaid (by your tenants). Plus,  the value of the property increases due to rising rents year-over-year and appreciation.
And unlike stocks and traditional asset classes, real estate investors receive highly tax-advantaged returns by utilizing tax incentives such as depreciation, bonus depreciation, cost segregation, and 1031 exchanges. In fact, many real estate investors do not pay any tax on their cash-on-cash return.
When your property appreciates in value, you can refinance and take out tax-free money. This money can be spent or invested in a new property, while you continue to enjoy cash flow and appreciation on the original property.
Plus, you can pass these advantages to your children and grandchildren by passing your fourplex onto them in your estate plan.
When you invest with a specific goal in mind, it's easier to make strategic choices. Take some time to really think about where you want to be in 15, 20, 30 or more years. Do you want to be semi-retired? Fully retired? Debt-free?
Your fourplex is the vehicle that may get you to your goals.
Introducing the Development and Management Team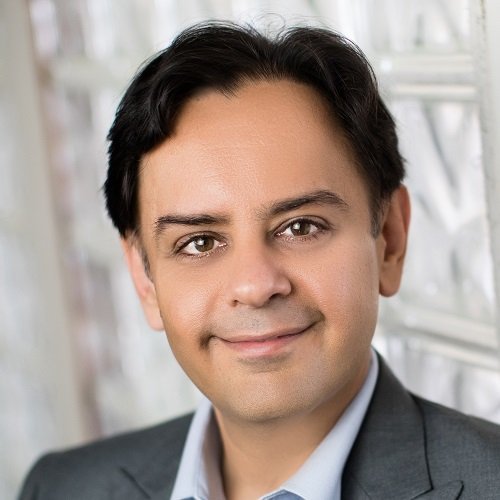 NEAL BAWA
Grocapitus, CEO & Founder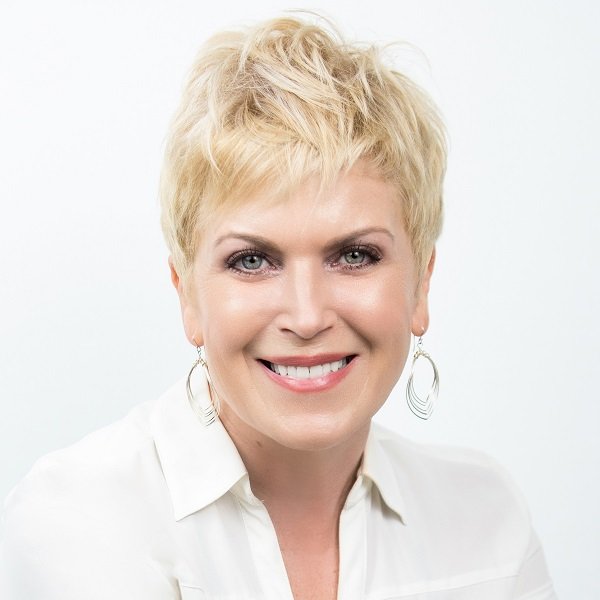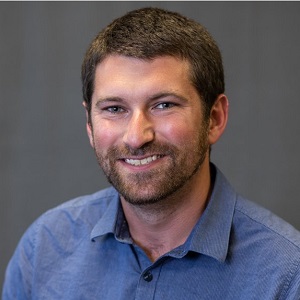 PETE LEVINE
Grocapitus, Acquisitions & Development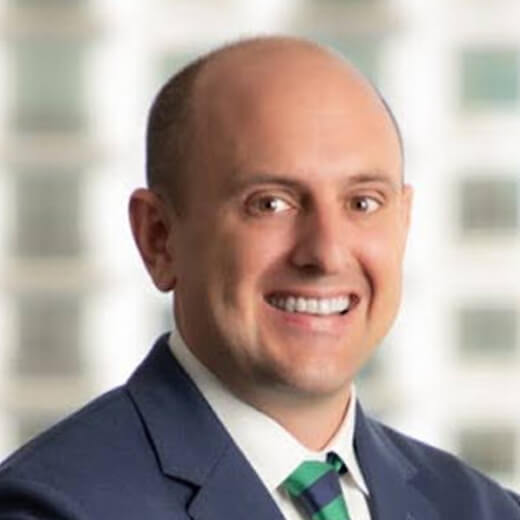 PETER MAJESKI
Grocapitus, Investor Relations
How Grocapitus Selects Development Markets
Rent Growth
The 5 year rent growth forecast is one of our key indicators. We use a powerful proprietary method to calculate this value.
Sales Trends
We continuously monitor local sales to compute cap rates and determine whether our cap rates are on target to reach our projections.
Employment
We look for metros and submarkets that are adding a significant number of high-paying jobs, resulting in a stable local economy.
Supply And Demand
We monitor the supply of local units carefully to ensure it will not spike the vacancy rates and negatively impact rents.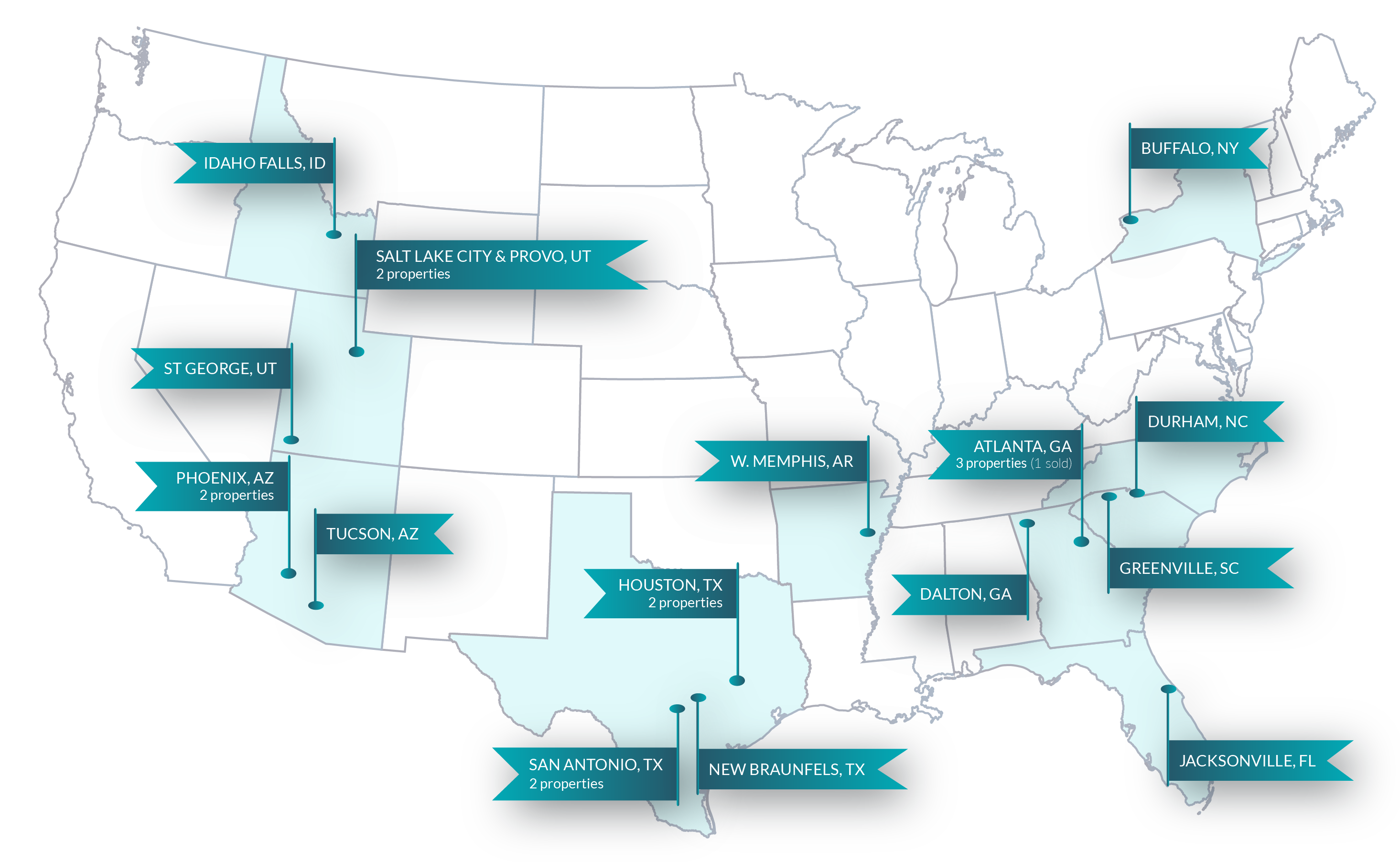 Projected Returns (7 Year Hold)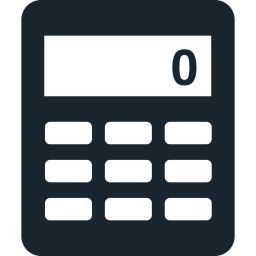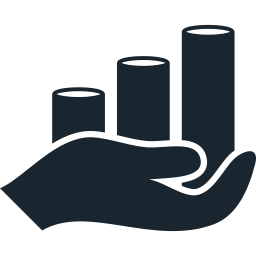 Request The online Investor Kit
Investor Presentation (PDF)
A video walkthrough of a unit
Where should we send your
Equinox Townhomes Idaho Falls

investor kit access information?
Privacy Policy: We hate spam and promise to keep your email address safe
Let Us Help YOU Receive MORE PASSIVE INCOME
© Copyright 2023 · Grocapitus Investments · All rights reserved · Privacy Policy
The information contained in this excel model / projection and in the described materials ("the information") is presented for illustrative and educational purposes only. It is not presented nor should it be treated as real estate advice, legal advice, investment advice, or tax advice. We advise all parties to do their own research and obtain independent financial, legal and professional advice before making any investment and business decisions. Your personal individual financial circumstances must be taken into account before you make any investment decision. Grocapitus, its directors, office holders, presenter(s), its authorized distributors, promoters and licensees, their employees and speakers do not guarantee your past, present or future investment results whether based on this information or otherwise. The information supplied is always subject to alteration without notice. Grocapitus, Urbanist, its authorized distributors, promoters, licensees, associates and employees may hold shares and/or obtain fees and/or other benefits from the companies presented and promoted in the described materials. To the extent permitted by law, Grocapitus gives no warranty and make no representation as to the accuracy of excel model / projection and accept no liability for any loss which may be suffered by any person who relies either wholly or in part upon the information presented. All parties must only rely upon the contents of any legal agreements, formal disclosure statements and their own research and enquiries in relation to any property to be acquired and/or contracts entered into.