Grocapitus Opportunity ZONES TOOLKIT
Dramatically Reduce Your Capital Gains Taxes By Investing in Opportunity Zones (Pay as Little as $0)
Opportunity Zones Overview
What are Opportunity Zones?
OZs were created to boost economic activity in selected census tracts across the country. According to Brookings Institute there are 8700+ US Census Tracts designated as Opportunity Zones, out of which 19% are in already gentrifying areas.
What is an Opportunity Fund?
The Tax reform bill added Opportunity Funds as a new way to incentivize investment in specific communities called Opportunity Zones (OZs). An OZ Fund is an investment vehicle that invests at least 90% of its holdings in real estate within a Qualified OZ.
Why Invest in Opportunity Funds?
Opportunity Funds enable investors to defer federal taxes on recent capital gains until Dec 31, 2026, have that payment reduced by up to 15%, and pay as little as zero taxes on profits from an Opportunity Fund if that investment is held for 10 years.
After selling an asset such as stocks or bonds, real estate, or interest in a partnership, an investor usually triggers a capital gain. These investors can receive special tax benefits by rolling their gain into an Opportunity Fund. The three primary reasons to roll your capital gain into an Opportunity Fund are:
Defer The Tax Payment
of your capital gains until Dec 31, 2026
Reduce The Tax
you owe by up to 15% after 7 years
Pay Zero Tax
of your capital gains until Dec 31, 2026
Opportunity Zone Benefits Over Time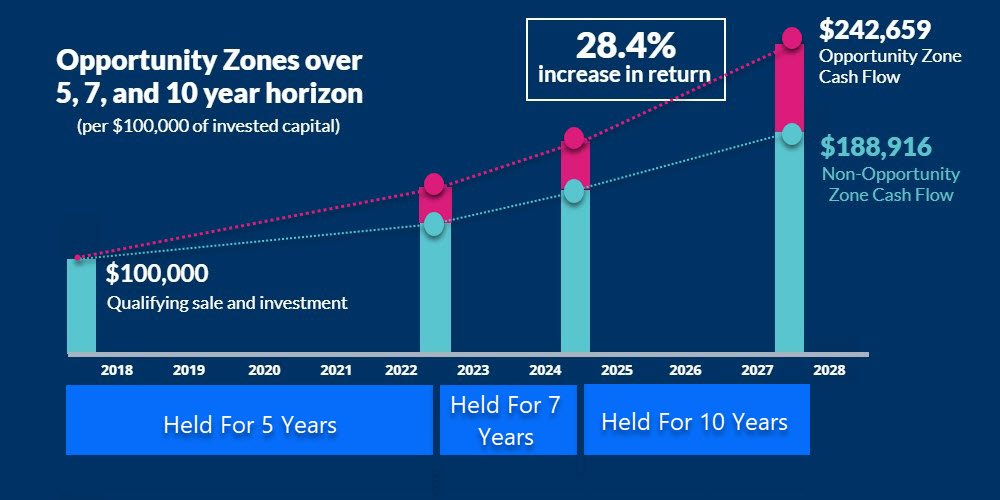 Held for 5 years
– 90% of original capital gain invested is subject to tax
Held for 7 years
– 85% of original gain is taxed
Held for 10 years
– The OZ investment step-up in basis to market upon disposition, resulting in no taxable gain
How Big Is The Opportunity?
Grocapitus Opportunity Zones are focused on investing in high-quality real estate in major US cities with long-term growth potential. We plan to take on massive value-add properties and new developments in Opportunity Zones to maximize cash flow and returns.
Novogradac Opportunity Zones Mapping Tool
About the Novogradac Opportunity Zone Mapping Tool
This tool displays designated qualified opportunity zones as published by the CDFI Fund as of June 15, 2018, as well as areas that may be eligible for OZ designation.
Designated opportunity zones displayed in the Novogradac Opportunity Zones Mapping tool are those that were nominated by those chief executive officers, and have been certified and designated by the Treasury Department. In addition, every low-income census tract in Puerto Rico was designated as an OZ in 2018 budget legislation. Once an OZ is designated, it remains a qualified OZ for a period of 10 years from the date of designation.
Simply fill out the form below and we'll have one of our friendly team members contact you with Opportunity Zones information.
Calculate Your After-Tax Returns
Assumptions: 12% annual rate of return; 10-year hold
Traditional Portfolio
$143,492
Grocapitus Opportunity Zones
$195,662
Calculations above are based on the highest federal gains rates of 20% and 37%, with a 3.8% net investment income tax that applies to certain circumstances, for long-term capital gains tax of 23.8% and short-term capital gains tax of 40.8%. Any profits on the sale of an asset held for 1 year or less is considered a short-term capital gain and is taxed at ordinary income rates. Assumes no state income tax.
Opportunity Zone Webinars
Webinar Replay
Opportunity Zones – Unprecedented New Real Estate Tax Strategy: What You Need To Know
With Neal Bawa
Join Neal for an eye-opening, research driven look at one of the best tax deductions for real estate investors ever. This tremendous new tax incentive is paving the way for gigantic profits for savvy investors.If you are facing capital gains of any kind (stocks, business sale, or real estate) we'll show you how this new tax law can help you defer, and in some cases completely erase, federal taxes… legally. The size of the opportunity zones is absolutely enormous. In fact, we are already investing in some of the designated areas because they are attrative even without the huge tax incentives.
Webinar Replay
Developing An Opportunity Zone Investment Strategy
With Stefan Schimenes
Join our guest presenter, Stefan Schimenes, CEO and founder of InvestReal, on a discussion about investing in Opportunity Zones, and get more information about how to find investment shovel-ready projects, mitigate risks, and make smart data-driven decisions. Watch the recording below.
Grocapitus Founder Avoids "Irrational Exuberance in OZ Investing"
Neal Bawa found himself in the real estate sector almost by accident. But the rigorous habits of data analysis he honed as a tech industry executive proved even more valuable in the OZ space. The Founder and CEO of Gracapitus tells us about his unique perspective on Opportunity Zone investing in this episode of The OZExpo Podcast.
Reports And Additional Information
LOCUS NATIONAL OPPORTUNITY ZONES RANKING REPORT
Your content goes here. Edit or remove this text inline or in the module Content settings. You can also style every aspect of this content in the module Design settings and even apply custom CSS to this text in the module Advanced settings.
Grocapitus Opportunity Zones
Our Unique Data Driven Approach To Identifying Attractive Markets
With over 8,700 census tracts designated as Qualified Opportunity Zones, a data-driven approach to market selection is paramount to reduce risk and increase the rewards of Opportunity Zone investing. We use our proprietary market selection formula for identifying the most attractive markets.
THE PROBLEM
Through data science, we have learned that OZ projects vary a great deal in quality, because most OZs simply do not have the income, population or jobs to support new construction projects.
It is our core belief that a majority of OZ projects will not have positive outcomes for investors. Investors are only focused on tax benefits, not on project and area quality, and that is a big challenge.
OUR SOLUTION
GrOZ Opportunity Zone fund is the only true solution to this challenge. Grocapitus specializes in the use of demographics and real estate data analytics to find & acquire high quality investments for our investors.
Our current portfolio of $150 million in assets benefits greatly from our knowledge of Real Estate analytics. We bring that extensive knowledge and demographics secret sauce to Opportunity Zones.
HOW WE DO IT
We start with demographics and carefully target a fraction of nationwide zones. Then our team engages in a unique zone-by-zone outreach campaign , seeking out exceptional OZ projects.
Applying unique filters to markets, neighborhoods and potential developer partners, we source those rare OZ projects that present true opportunity, while minimizing the potential hazards of investing in underperforming areas.
We have a team dedicated to moving very quickly to capitalize on this unprecedented opportunity that requires quick action. If you are a potential investor, we would love to talk with you about one of the most exciting investment developments in recent history. Contact us!
If you are a developer, fund manager, city planner, or are in some other way involved with Opportunity Zones, let's talk!
NEW! Featured Investment – Own a University Oaks TURNKEY FOURPLEX
You will have 100% ownership of a brand new turnkey fourplex as a rental property
Projected 3.6x Equity Multiple and 25.7% Annualized Simple Return
Big Tax Savings (up to ~$300K bonus depreciation in year one)
100% Pre-leased before closing
State-of-the-art anti-COVID technology
This investment is Opportunity Zone qualified. If you are facing capital gains of any kind (stocks, business sale, real estate, …) this new tax law may help you defer, and in some cases completely erase, federal taxes.*
*You do not need to invest capital gains to qualify for this investment opportunity.