*** CLOSED TO NEW INVESTORS ***
Massive Value-Add Multifamily Investment Opportunity
in an Up-and-Coming Metro
Investor Kit
ARBOR VILLAS
114 Units, Class C Property in a Rapidly Improving Neighborhood
Projected Investor Returns
17.33%
Internal Rate of Return
20.58%
Avg Annual Returns
Read the Investor Presentation Deck and Watch the Investor Information Session Replay Video…
(Accredited Investors Welcome)
Please Note: Numbers in the attached deck are slightly different from the ones presented in the webinar due to income and expense updates from the due diligence.
Watch The Investor Call Replay
To request subscription documents and the PPM
Tremendous Value-Add Potential
This underperforming property has had poor management, deferred maintenance, dated interiors, and other conditions providing the perfect opportunity to rebrand and remodel to increase property value.
Up and Coming Metro
Ranked #3 for rent growth, #2 for Best Small American Cities, and in the top 5 for Best Cities for Millennials, this metro has a low supply of apartments coupled with very little planned or new apartment construction. 
Stunning Game-Changing Efficiency
By rethinking every step of the renovation and leasing process we have turbo charged processes to maximize net operating income. Come hear our amazing story and learn how we are doing it!
Our Unique Value-Add Strategy
We will immediately rebrand and start implementing our proven value-add program and innovative remodel approach (see our incredibly powerful Equinox case study below).
Our heavy remodel updates worn kitchen cabinets, counter-tops, and appliances with glistening modern replacements. New waterproof luxury vinyl flooring is installed throughout the units. Bathrooms are completely revamped and modernized.
By increasing curb appeal and implementing strategic interior renovations with high quality interiors and amenities, rents are expected to increase a projected 57% over a 2 year period.
Up-and-Coming Metro In Fast Growing State
In addition to numerous top rankings, there is a lot to love about this metro and sub-market. It has an expanding local economy with low unemployment. The population is expanding rapidly and has a projected median household income growth of 7.1%.
There are high-quality jobs nearby, with many large employers in various industries including government, research and development, education, aerospace and defense, healthcare and biomedical, and hospitality and tourism.
The outlook is very bright for this metro. And a low supply of apartments, coupled with very little new construction or planned construction of market-rate apartments, should result in continued high rent growth.
How We Optimize Investor Returns
Every step of the renovation and management process has been carefully engineered to maximize net operating income while delivering a vastly superior product.
Vertically integrated redevelopment dramatically reduces project costs by 30% or more, boosting projected investor returns. In house property management reduces expenses and provides markup-free maintenance services.
The efficiencies in our procurement process allows us to use very high quality materials, with an emphasis on low emissions. Even though our expenses are lower, we are able to create stunning units, a healthier environment for families, and a compelling advantage in the marketplace.
We are incredibly excited to be able to show these ground-breaking processes and how we are able to achieve these efficiencies in the investor call.
Equinox Case Study in the Same Metro
They say a picture is worth a thousand words, so rather than go on and on about our innovative remodel approach, we'll let the results speak for themselves with some high level stats and before and after pictures from our Equinox project.
Our attention to detail, high-end amenities, and modern style allow us to charge above average rents and still maintain > 95% occupancy.
Join us to hear many more fascinating details about the Equinox Case Study in the investor call.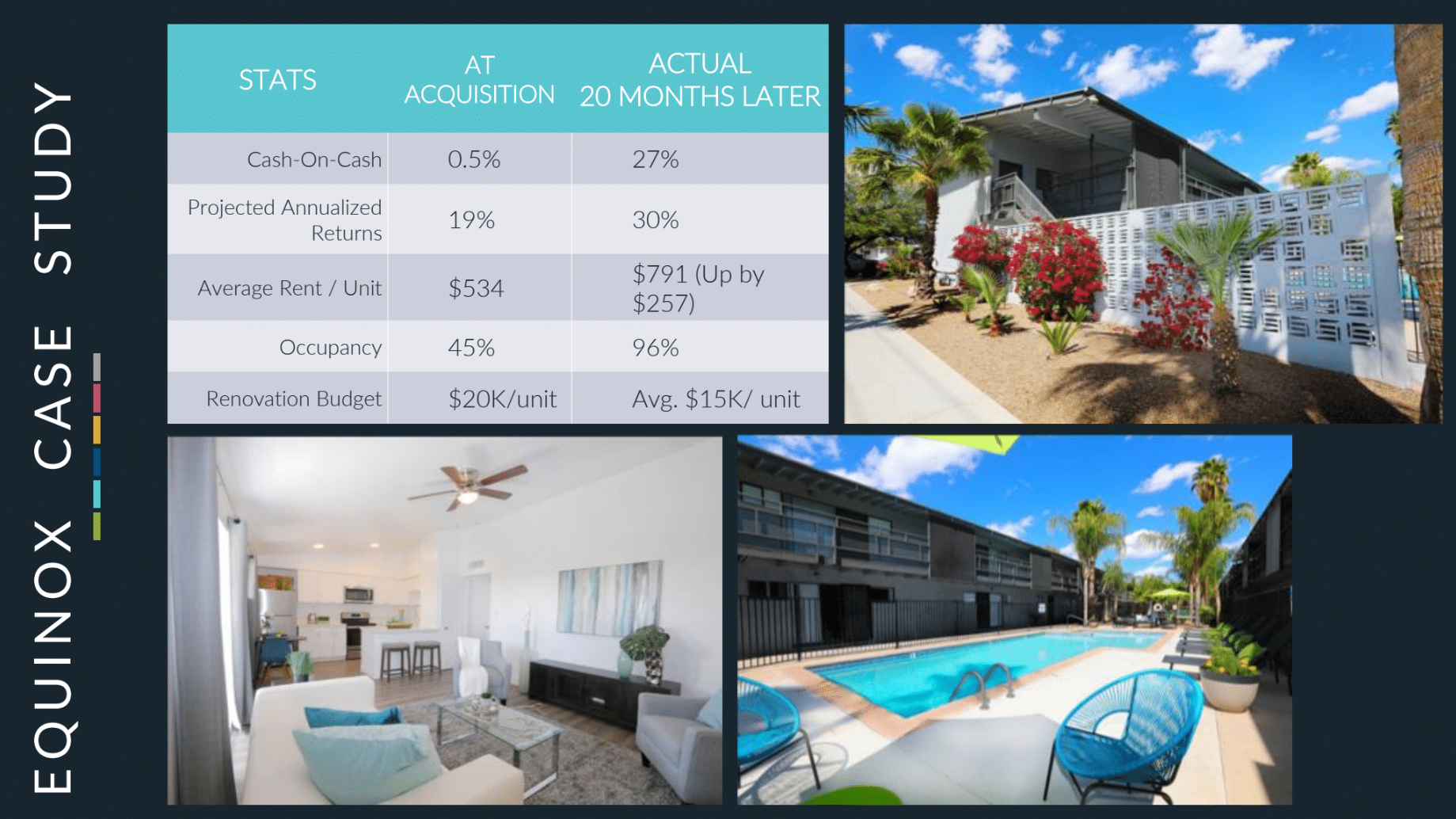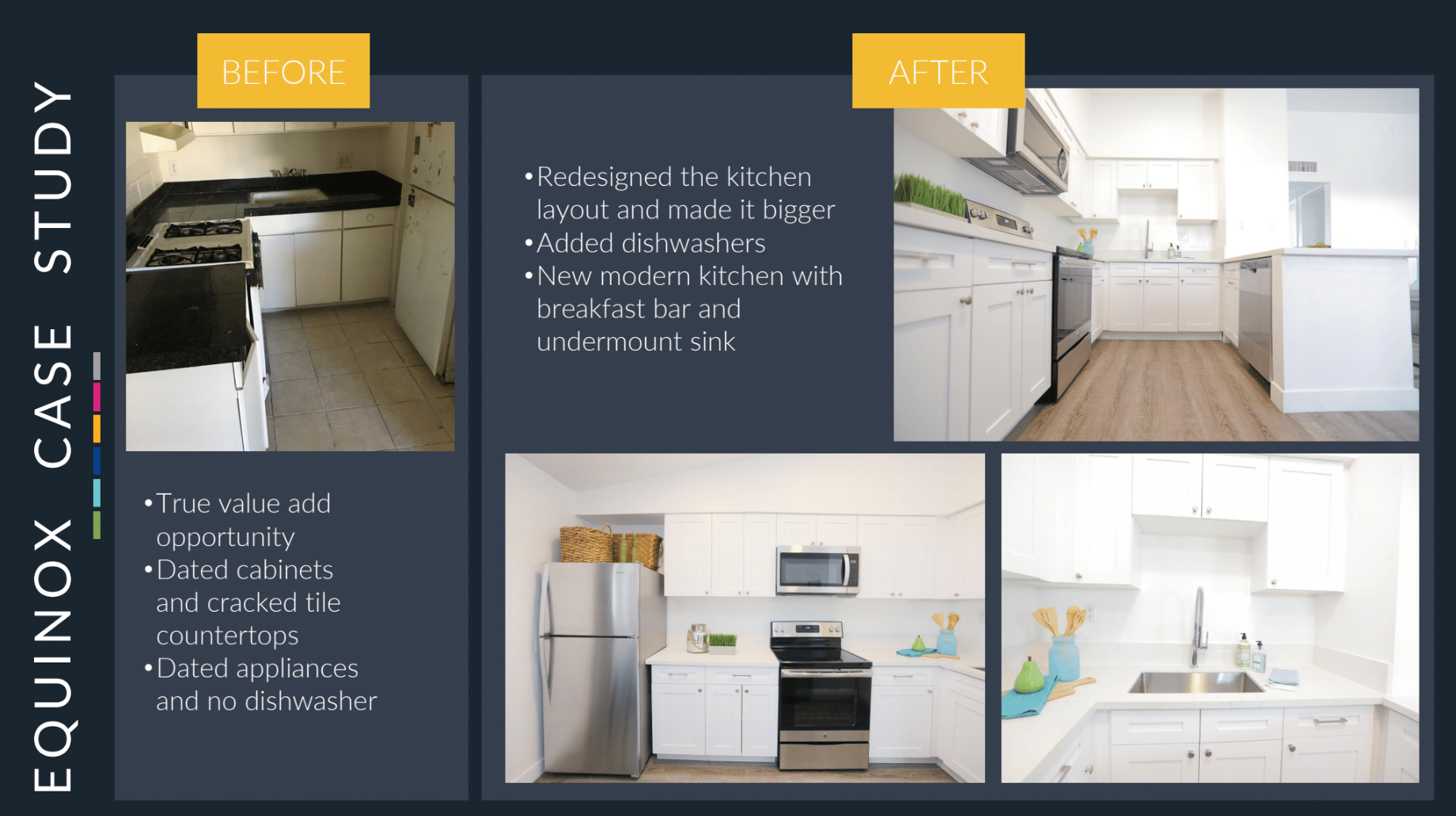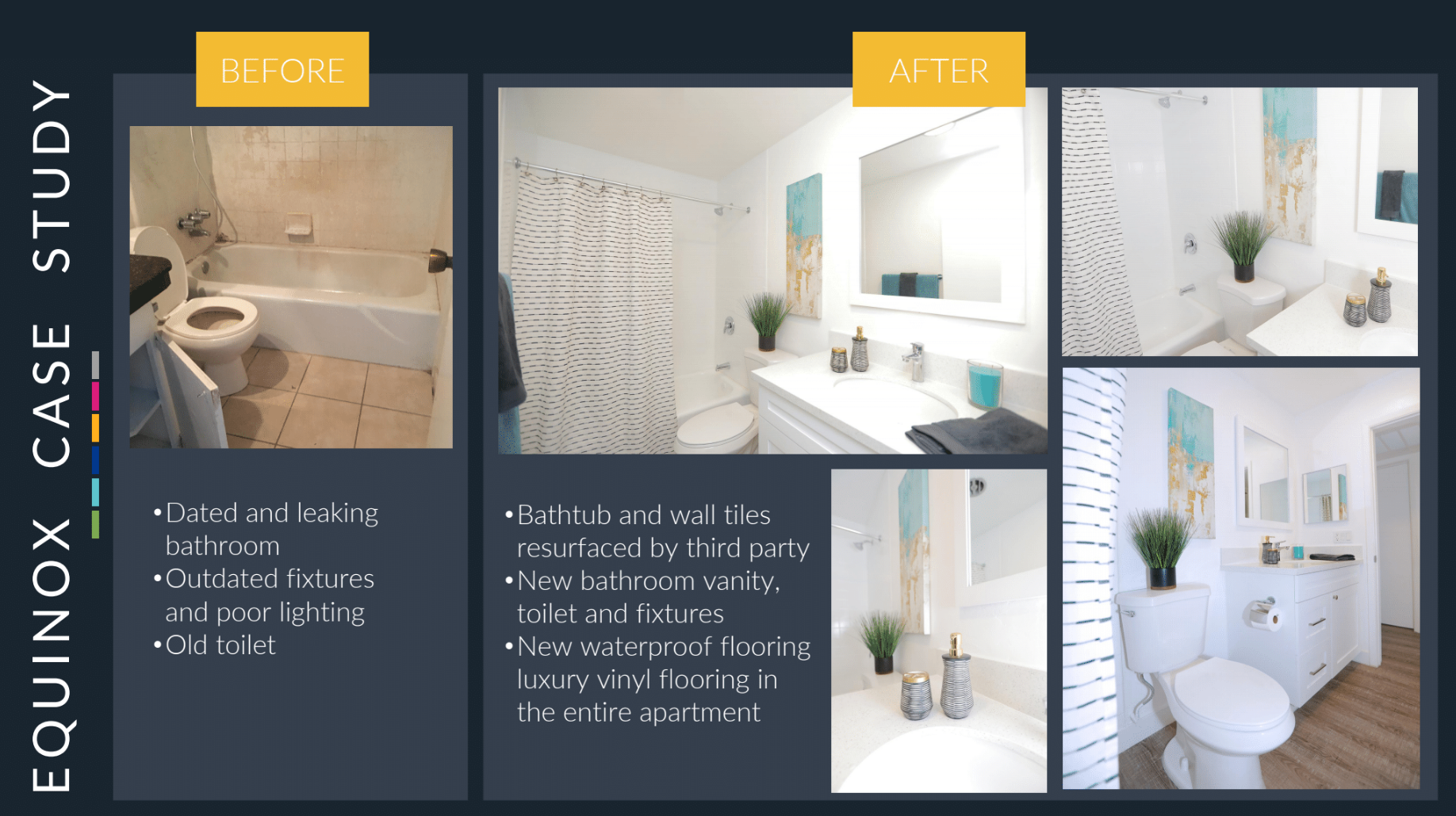 WHAT YOU'LL LEARN IN THE INVESTOR DISCOVERY KIT
A true value-add multifamily investment opportunity, our innovative approach translates to a huge impact on net operating income. By rethinking every step of the renovation and management process, unheard of efficiencies are created. We think you'll be blown away by what happens when a dynamic team truly thinks outside the box. Here's what we'll covered on the investor call:
Our stringent investing criteria and process.
What your investment looks like – how long, minimum investment, cashflow, etc.
The metro and super important neighborhood factor.
A look at the management team, their core competencies, and experience with multifamily.
We'll drill down into the actual property so you'll  understand the magnitude of the opportunity.
A fascinating case study about an apt. building, same age, same metro, that we completely turned around. 
Critical financial numbers – assumptions, loans, splits, returns, and more!
Q&A to answer your questions about the opportunity.
MEET OUR Experienced MANAGEMENT Team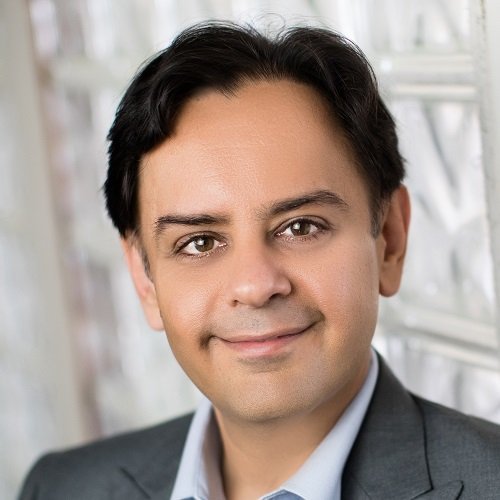 NEAL BAWA
Grocapitus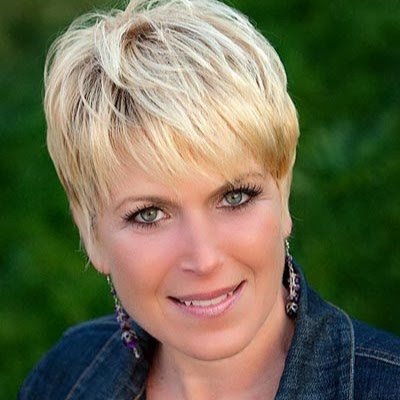 ANNA MYERS
Grocapitus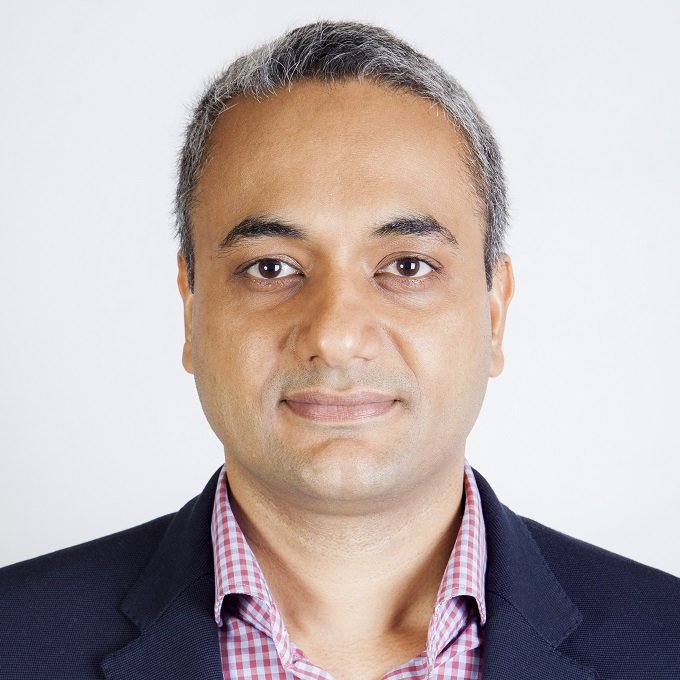 VICRAM BRAR
Waahe Capital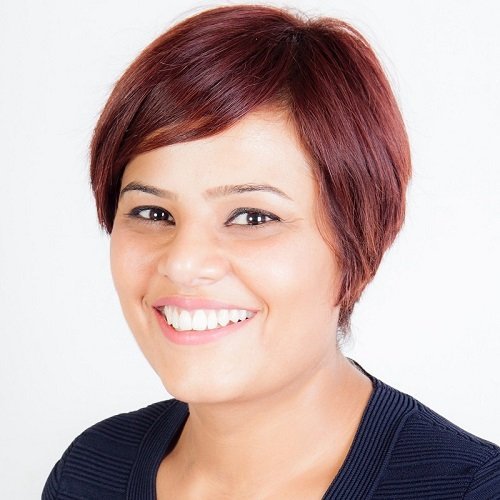 PRINCI BRAR
Waahe Capital
ARBOR VILLAS INVEStment Opportunity
Projected Annualized Returns
Minimum Investment

(Accredited investors)
DON'T MISS OUT ON THIS IDEAL VALUE-ADD MULTIFAMILY INVESTMENT
Email Neal your questions, or request the subscription documents and PPM
This material does not constitute an offer or a solicitation to purchase securities. An offer can only be made by the Private Placement Memorandum (PPM).The PPM and its exhibits contain complete information about the Property and the investment opportunity. The information contained herein is not a substitute for an investor's complete review of all of the information attached to the PPM as part of their own due diligence regarding this investment opportunity and its suitability for their investment portfolio.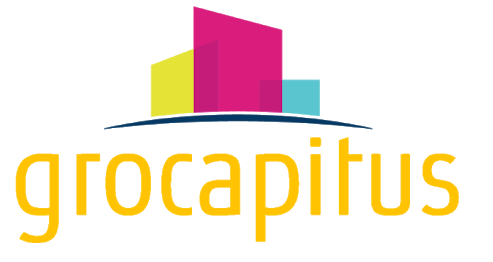 LET US HELP YOU RECEIVE MORE PASSIVE INCOME